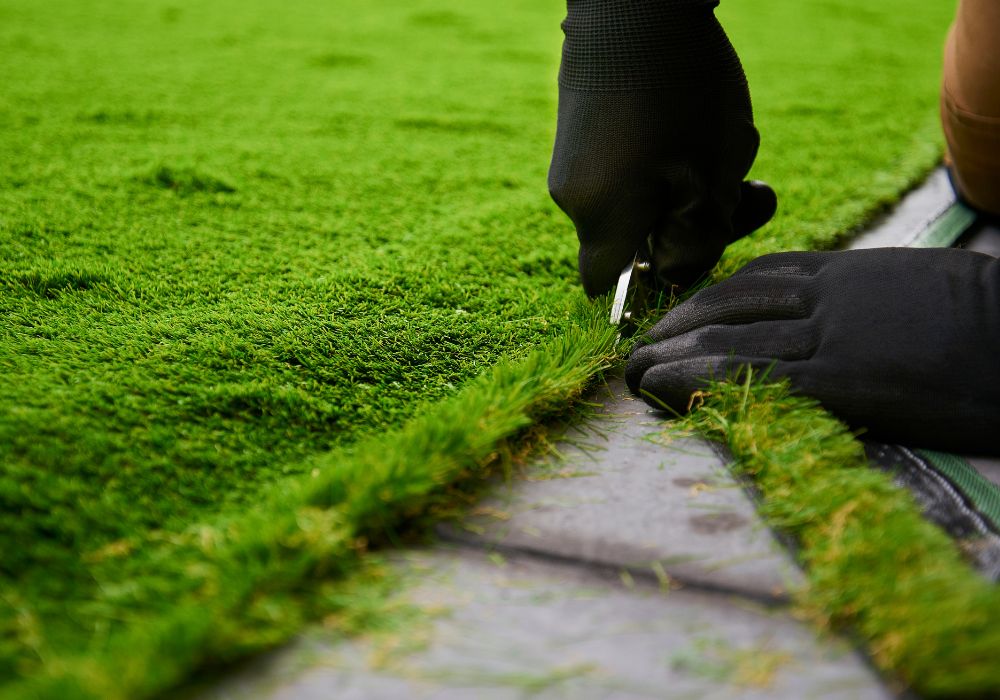 Have artificial grass laid by Resigrass
You want to install artificial grass in the garden or on the balcony, preferring to leave the installation to professionals? At Resigrass, our team is ready to guide you from A to Z in the purchase and installation of artificial grass!
Our installation service is called upon annually by private individuals, companies and government agencies for flawless installation of quality artificial grass with stunning results.

How much does laying artificial turf cost? That depends on the surface and the materials needed, although we give you an indication of prices below. Because every project is unique, we always provide you with a customised quote, which you can easily request online or which you will receive when you visit our showroom. There, based on your selected artificial grass and further information, we can draw up an accurate quotation free of charge.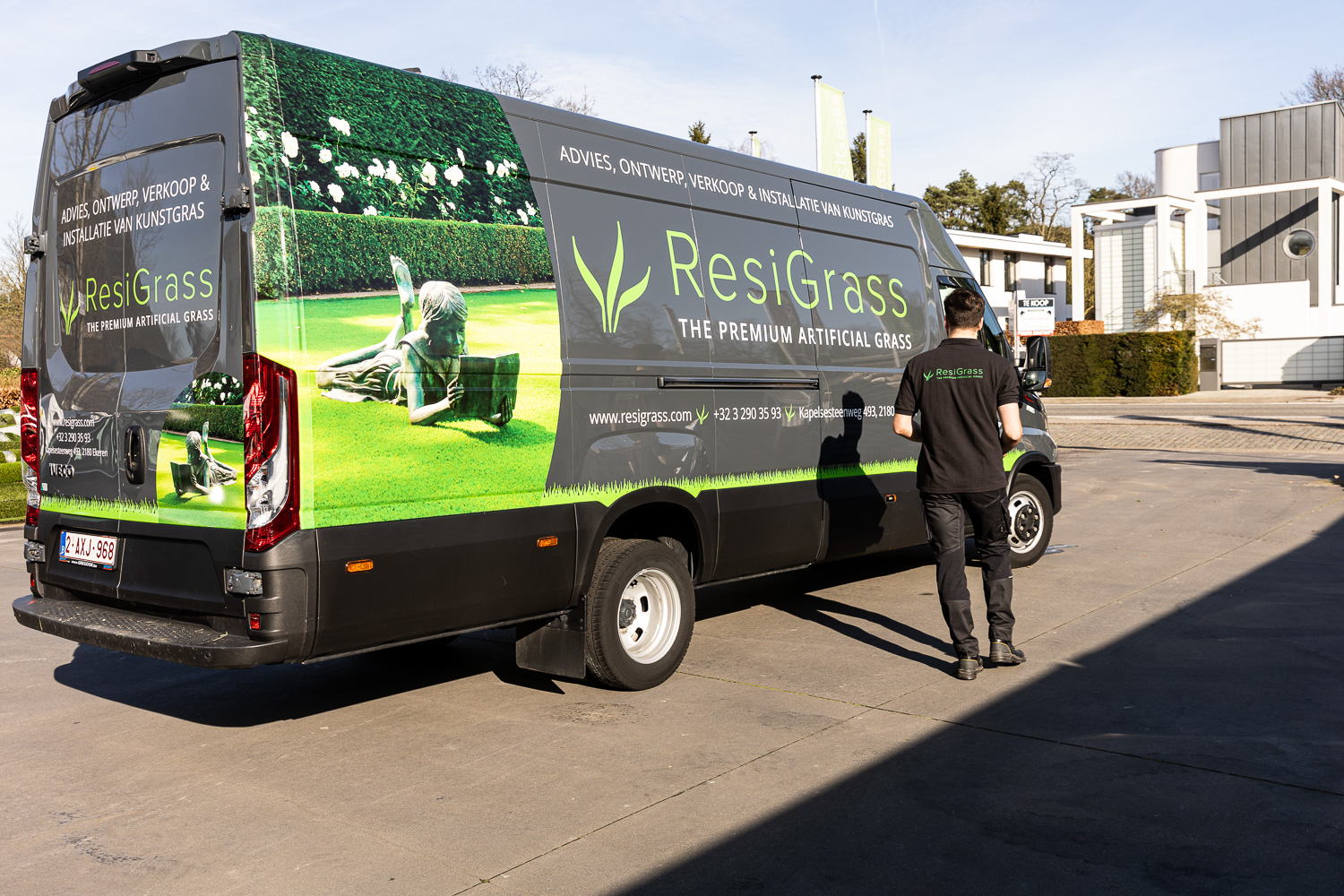 The advantages of having your artificial grass laid by professionals from Resigrass
If you choose to have your artificial grass laid by Resigrass, you choose:

A completely worry-free service: from the removal of existing substrate to fixing the mat, everything is provided!

Craftsmanship: our installers have already laid several square kilometres of artificial turf and know what they are doing

Customised finishing: do you need edging stones, a parasol base or washing rack cut into the grass or stepping stones? We can provide extras during installation.

Water-permeable end result: Resigrass always provides a stable, but water-permeable underground so you don't have to deal with stabilisers or paving.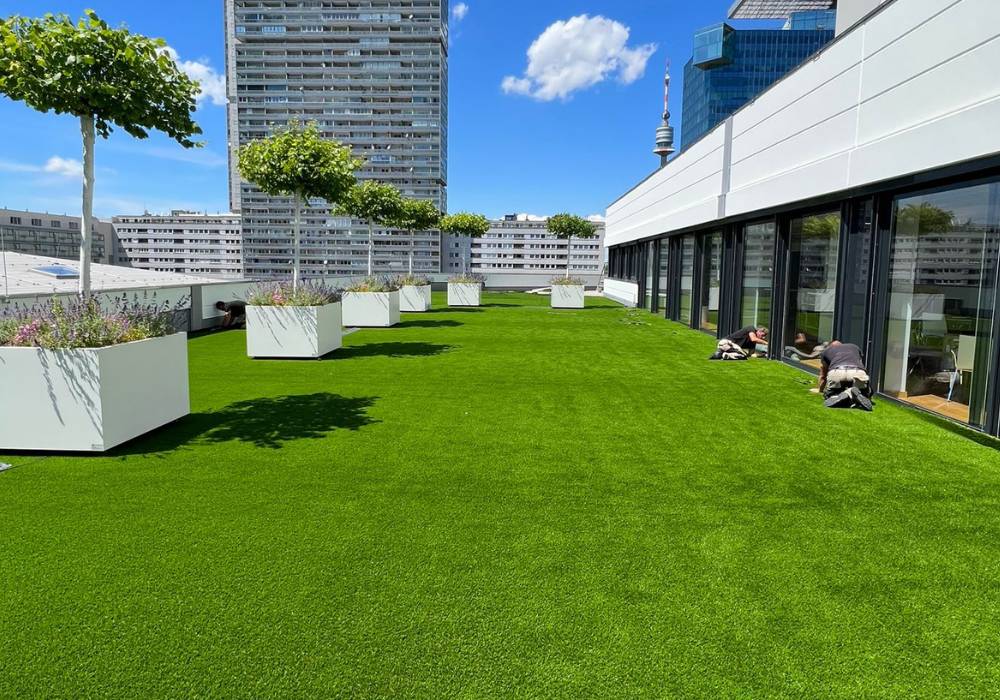 The Resigrass installation team
Our installation service is called upon annually by private individuals, companies and government agencies for flawless installation of quality artificial grass with stunning results.
As soon as the weather permits (+15 degrees and dry), our installation team is on the road throughout Belgium (and even beyond) to transform gardens, schools, tennis fields, putting greens, etc. into green gems thanks to the installation of artificial grass and they have been doing so for years. Their expertise ensures that your green project, depending on its size, can be delivered within one working day.
Be inspired by the possibilities of artificial grass
How much does it cost to have artificial grass laid?
Every project is unique, because there are several factors that influence the price of an artificial grass installation. If you have already prepared the soil and compacted it to -2 cm, our team will only have to install the geotextile and the roll of artificial grass, which will make the installation cheaper than if our team excavates the existing lawn, drains the organic material and still has to lay the sand bed underneath.
Resigrass can help you with the following:
Excavation of existing soil: this involves excavating the existing soil to -10cm, so that existing turf and weed roots are sufficiently removed. If necessary, the installation of coping stones can be included in this phase.

Installation of sand bed: Fill the ground surface with sand to create a permeable, natural subsoil. This fine sand is then levelled and compacted into a compact base that retains its stability well due to the loam present.

Installation of pressure distributing geotextile.

Installation of the artificial grass: think about making the seams, trimming at the edges and fixing the turf at the perimeter.
However, the bigger your project, the more economies of scale there are. Other materials are also required when installing a roof terrace or playground, for example. So prices still vary depending on the characteristics and needs of your project. As no one is happy with financial surprises, we always provide a customised quote, and if necessary, we will come and take measurements on site. Ask for a free customised quote below or receive one when you visit the showroom.
View our recent projects here