Advice, selection & laying of artificial grass
Resigrass is your partner for premium quality artificial grass for more than 20 years. Whether you are looking for the perfect artificial grass for your garden, balcony, playground, rooftop terrace or business: we provide a tailor-made solution.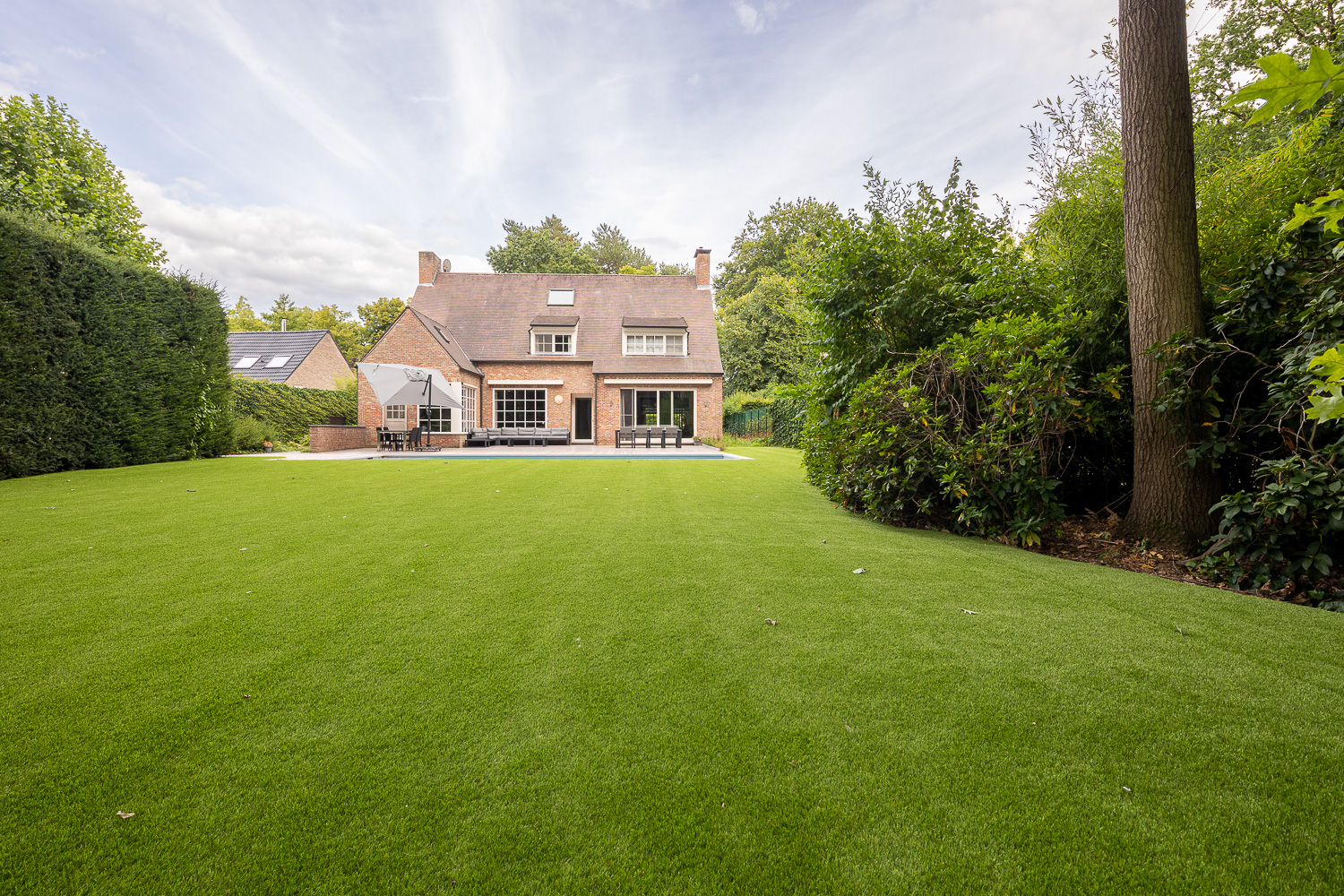 What are the benefits of buying artificial grass?
Artificial grass is an incredibly versatile ground cover that can be used indoors, outdoors, horizontally and even vertically: the possibilities are endless. Apart from the many possible uses of the turf, there are many other advantages of artificial grass. We list them for you:
Low maintenance. An artificial grass carpet requires virtually no maintenance so say goodbye to mowing, watering, re-seeding and weeding.

Enjoy a radiantly green lawn all year round, without pesticides or wasting water.

Thanks to the high quality of the artificial grass yarn used by Resigrass, the mats last for years. It is therefore a durable product with a long life cycle.

All our artificial grasses meet the highest safety standards and are therefore safe for humans & animals.

Resigrass takes care of everything: from the removal of an existing lawn to the trimming of the mat to fit your project perfectly. Our installers ensure that you have nothing to worry about.

True-to-life look thanks to years of technological developments
View our recent projects here
How to buy the perfect artificial grass?
Artificial grass comes in all kinds: from different shapes (are you looking for artificial grass tiles, or the standard carpet rolls of 4 metres wide?), lengths, yarn structures, colours (natural green or coloured artificial grass for an exhibition stand?),... the possibilities of this product are endless! To make sure you always choose the right type of grass for your purpose, here are a few points to consider when buying your evergreen grass carpet.

Primary function of the lawn: if your garden is your children's number one play area, you have very large dogs or want to create a low-maintenance ornamental garden, this will influence the type of grass you choose.

Location of artificial turf: Are you looking for a nice ground cover for a roof terrace or do you want to redo your front garden? The location is an important factor for the type of surface you will be working with for a stable installation!

The right size: The length and width of your plot can influence the laying direction and the amount of material needed for an aesthetic result.

Maximum budget: The budget with which you want to realise your project will influence the types of artificial turf you can choose from.

Lifespan of the turf/quality of the yarn: The quality of the yarn determines how long your blades of grass will stay beautifully upright. Asian and cheaper qualities have a noticeably shorter lifespan than EU productions.

Lay it yourself or hire a laying service: If you install it yourself, we will provide you with an installation plan and advise you on the installation and necessary materials. If you choose our worry-free installation service, the necessary materials are already included in the price.

Visit our show garden
Do you need help choosing? Then we invite you for a free consultation in our show garden. Based on specific questions, our advisers select the right grass types for your project: synthetic grass for ornamental gardens differs from an artificial lawn suitable for dogs, for example, so we always guide you in this.
Next, you can discover the different types of natural artificial grass (more than 20 types) in large format in the large show garden. There you can properly compare the different varieties based on look, feel and budget. Our show garden is always open during opening hours, so feel free to bring your children, pets and/or partner to make the best choice.
Always a tailor-made offer for artificial grass
We attach great importance to transparency at Resigrass, and we always make an offer. Whether you are getting acquainted with artificial grass for the first time or actually want to place an order: we always recommend that you visit our showroom first. Based on your project and needs, one of our advisers will suggest (a number of) suitable artificial grass(es) that fall within your wishes and budget.
In our show garden, you will get a clear picture of what the artificial grass looks like on a large surface. Based on the selected artificial grass, we will then work out a tailor-made offer, including the various works to be carried out. So you walk out with a clear idea of what artificial grass costs!
Free artificial grass samples
Can't get to our showroom right away, but are you curious about what artificial grass can do for your project? Then feel free to ask for our free samples. When you receive them, it is best to brush them well with a comb or by hand, after which you will get an idea of what the product looks like.
Because artificial grass samples always look different on a small surface, we still recommend viewing the different grass varieties in the show garden before you decide to buy artificial grass. After your visit, you will always receive the different samples in larger format to take home with you so that you can make a good choice!