New kid on the block: garden-, poolhouse or hobbytainer at Cosylounge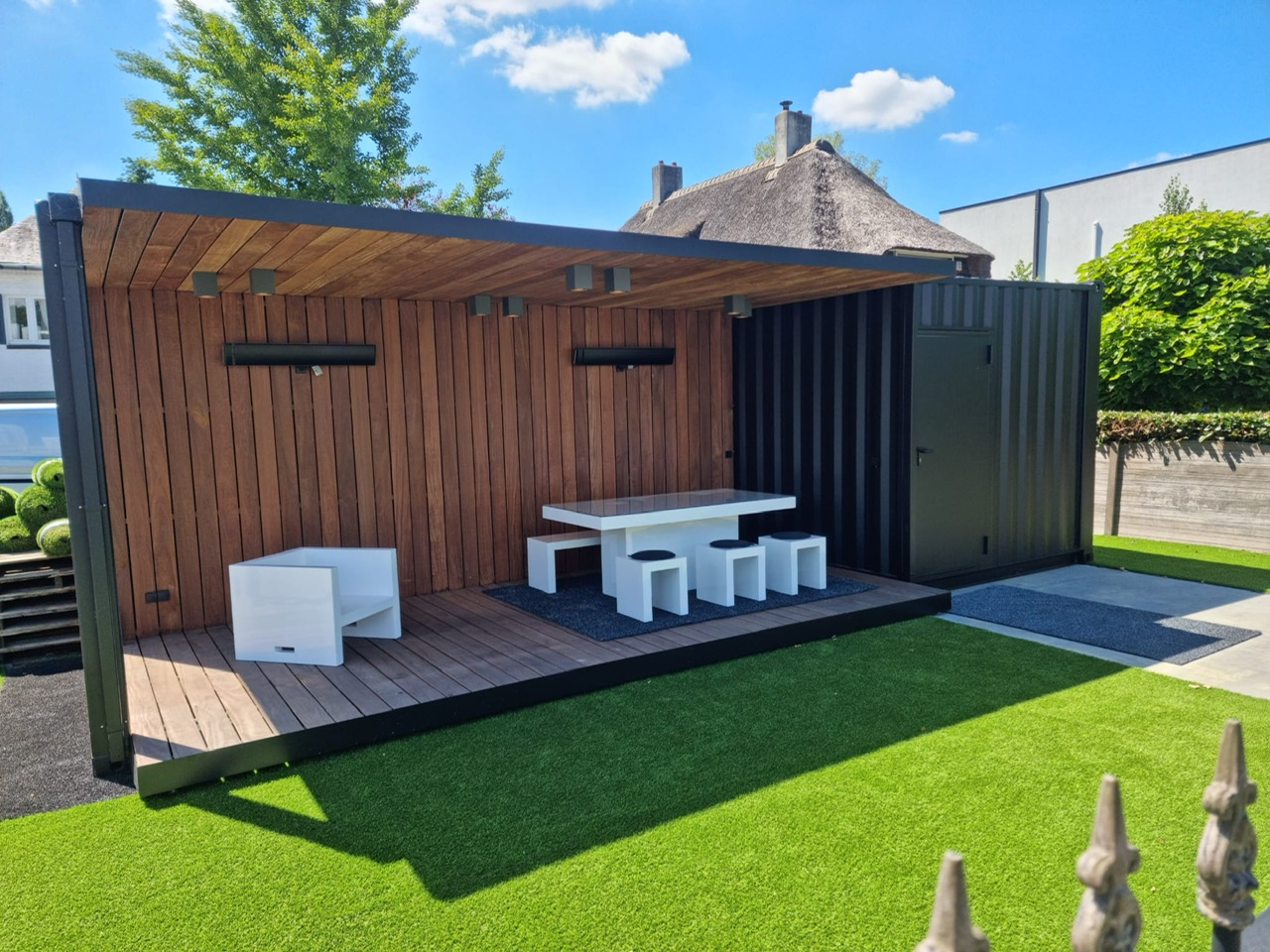 Have you been dreaming of a unique, modern pool house or a garden house that is quickly installed, without much work? Or are you looking for a flexible office space? Then Cosylounge's latest solution is for you: a multifunctional custom-made container.
The idea is simple: the container serves as a base and is adapted to the needs and purpose of the customer. Environmentally friendly bars, container stages, a swimming pool, a 'hobbytainer': you name it, it is possible! The shipping containers are a quick solution for those who want a modern, user-friendly and robust pool house or garden house.

How it all started with Cosylounge
Cosylounge was founded as a sister company of Resigrass in order to be able to offer a total project to our customers. Resigrass takes care of a beautiful lawn all year round, while Cosylounge focuses on the finishing touches. Think of shelters, beautiful garden furniture, design planters and garden accessories. In this way, customers have a total design for their garden in one place in the province of Antwerp. In the search for a unique solution for a covered terrace, garden gazebo or even mini-bar, our eye fell on the recycled containers.
The character of the units fits seamlessly with that of the existing Resigrass & Cosylounge product range: timeless, durable, versatile, modern and quickly installed.
It is therefore with great pleasure that we introduce you to the Corfu and Santorini, which can now be admired in our showroom in Ekeren!
How do I install such a garden or pool house?
The containers are completely customized to your needs as a customer. The day of the installation, the container is delivered as you had dreamed it. There is no mess on site and you don't have to do anything yourself: everything is ready to go once the unit is in place!
How much does a gazebo cost?
Everything is customised and therefore the prices for the mobile spaces are not fixed: depending on the adjustments, there may be variations. You can always get a free quote from Cosylounge, or download the brochure with options, prices and information below!
How do I purchase a unit?
or the purchase of your custom garden building you can now visit the Cosylounge & Resigrass show garden in Ekeren! There you will also find everything to furnish your pool house: modern garden furniture, artificial grass for around your pool, small decorations and artificial hedges for extra privacy.

Are you curious to see what your covered terrace could look like? Discover the show model at Kapelsesteenweg 493, 2180 Ekeren and receive an explanation of the installation, the possibilities and a tailor-made offer during your visit!