Does artificial grass get hot? How weather impacts artificial turf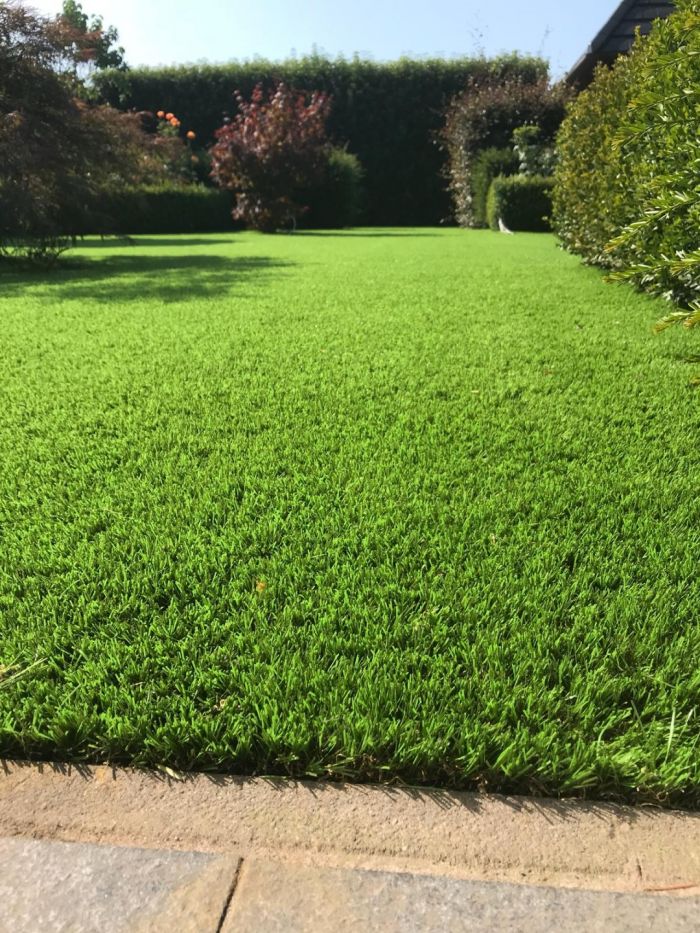 Persistent drought, heat or just extreme rainfall do not do our natural lawns any favours, we have all noticed that in recent summers. Sometimes the grass is greener on the other side. But how does artificial turf actually react to all these different weather conditions? Can artificial grass discolour and how well does imitation grass actually drain? And are there any types of grass that do not get hot? Here are the answers!
Sun
Although we often get a (crusty) tan from the sun, it has little impact on your artificial grass. What's more: we guarantee the UV stability for no less than 8 years. By the way, did you know that your synthetic lawn benefits from a little sun? The warmth makes the blades stand upright again after use!
If it is very hot outside, your artificial grass, just like your tiles, wooden terrace etc., may also heat up. Create some shade where you want to sit on your grass with a parasol or shade cloth. The sprigs will straighten up after you remove a parasol base, but make sure you don't drag it around. If that seems like a lot of hassle, you should choose ECO 1 Cool or Eco 2 Cool. Thanks to their revolutionary polymer matrix, these two artificial grasses feel fresher than grasses with a 'normal' latex backing.
Rain
We Belgians can stand a little rain (even if it is rather from the 'musts') and that is no different for our artificial grass. The grass mats have drainage holes that drain no less than 60 litres per m² per minute. So your grass can withstand monsoon-like torrential rain, and now you have to do it! The rain also goes easily to the ground, where it benefits the groundwater.
It is important, however, that when you lay the turf yourself, you provide for a well-draining surface. Read all about the ideal substrates for your artificial grass here.
Frost & snow
Frost and even snow pose no threat to your green pride and joy. You can walk on the artificial grass without damaging the fibres. The fibres will not spontaneously break or disintegrate during normal use, but be careful when removing the snow: only use a hard brush and not a metal pitchfork or snow shovel.
Conclusion?
Weather or no weather, your ResiGrass artificial grass is equipped for various weather conditions and will in the years to come often delight you with its evergreen character! Are you curious whether artificial grass is an option for your garden or terrace? Come and visit our showroom for a no-obligation introduction to the entire collection!