Synthetic grass on your (roof)terrace: inspiration for a dream balcony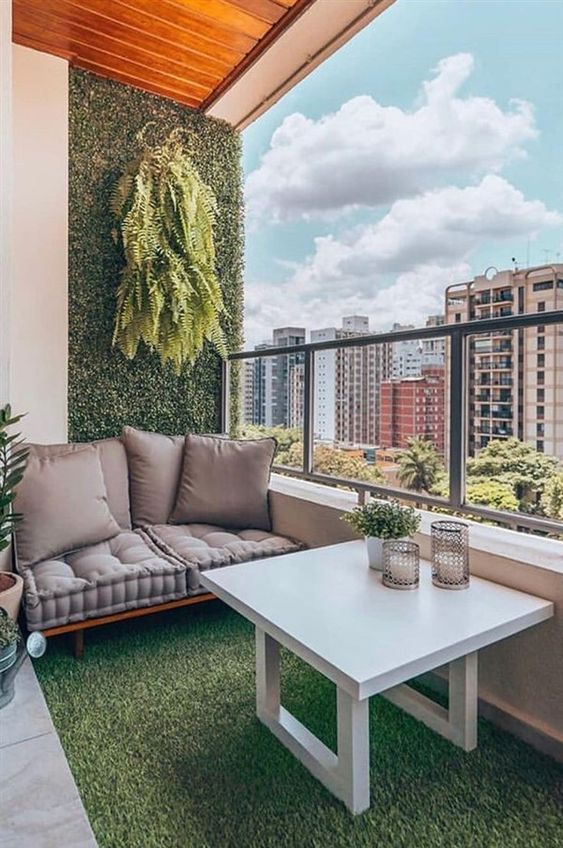 Outside is the new inside, and that also applies to our balconies or (rooftop) terraces. These, often smaller, spaces offer a wealth of possibilities and can be transformed into the nicest spot in your home in no time at all with the help of artificial grass, wood, paint and other (recycled) materials.
Would you also like to create a nice, green oasis where you can completely relax? Whether your terrace is large or small, we have a few tips for every budget! Get ready for a fantastic before and after for your terrace:
A bit of green
The colour green does a lot: it brings calm and balance and promotes concentration. So plenty of reasons to bring some greenery onto your balcony or terrace! This can be done in many different ways: pots with hanging plants and flower boxes are classics. Those who are able to make even a cactus die will benefit from artificial hedges or a strip of artificial grass that you can easily attach to different surfaces using screws, Tec7 (Hubo or Gamma), or enough weight.
A little light
Is your balcony surrounded by grey walls? Then a lick of white/light paint will do wonders. The fresh colour reflects light from the surroundings and will lift your entire terrace to a higher level. Other elements that catch the ambient light are, for example, mirrors, which you place strategically (make sure that they cannot blind anyone).
A little privacy
We all like to have a place where our neighbours can't peek. Screen off a corner easily by attaching clip-on panels or scour your local thrift shop for a nice paravent or fabric to create a bit of privacy.
Some more texture
Whether your patio is large or small, add some texture to your feet. Think wooden panels (do-it-yourself shops) or even a soft piece of artificial grass. This way you can look forward even more to an evening of barefoot enjoyment on your terrace!
A lot of fun
Smaller terraces can be made cosy in a jiffy with poufs, folding furniture and cushions. All these items can easily be used indoors or put away when not needed. Accessories such as cushions, flowerpots and candlesticks help you bring a little extra colour. Choose one colour to create harmony or make it a happy mess with different shades, new or upcycled!
And a touch of yourself
Inspiration can be found anywhere (our favourite: Pinterest) but don't forget that this is YOUR place. So select the elements that will make you happy and that you look at with pleasure and satisfaction every day.
Have fun!
You can easily upgrade your patio with some greenery, a new ground cover such as artificial grass, and some colourful accents. A beautiful terrace will not only improve your mood, but if done right, it will also add value to your premises.
Discover the possibilities of artificial grass and/or artificial hedges for your project in our ResiGrass showroom and garden and together we will realize your green dream terrace! ResiGrass can also help you with small surfaces: at the front we have lots of coupons and leftover pieces, ideal for a dash of green!