What are the different uses of artificial grass?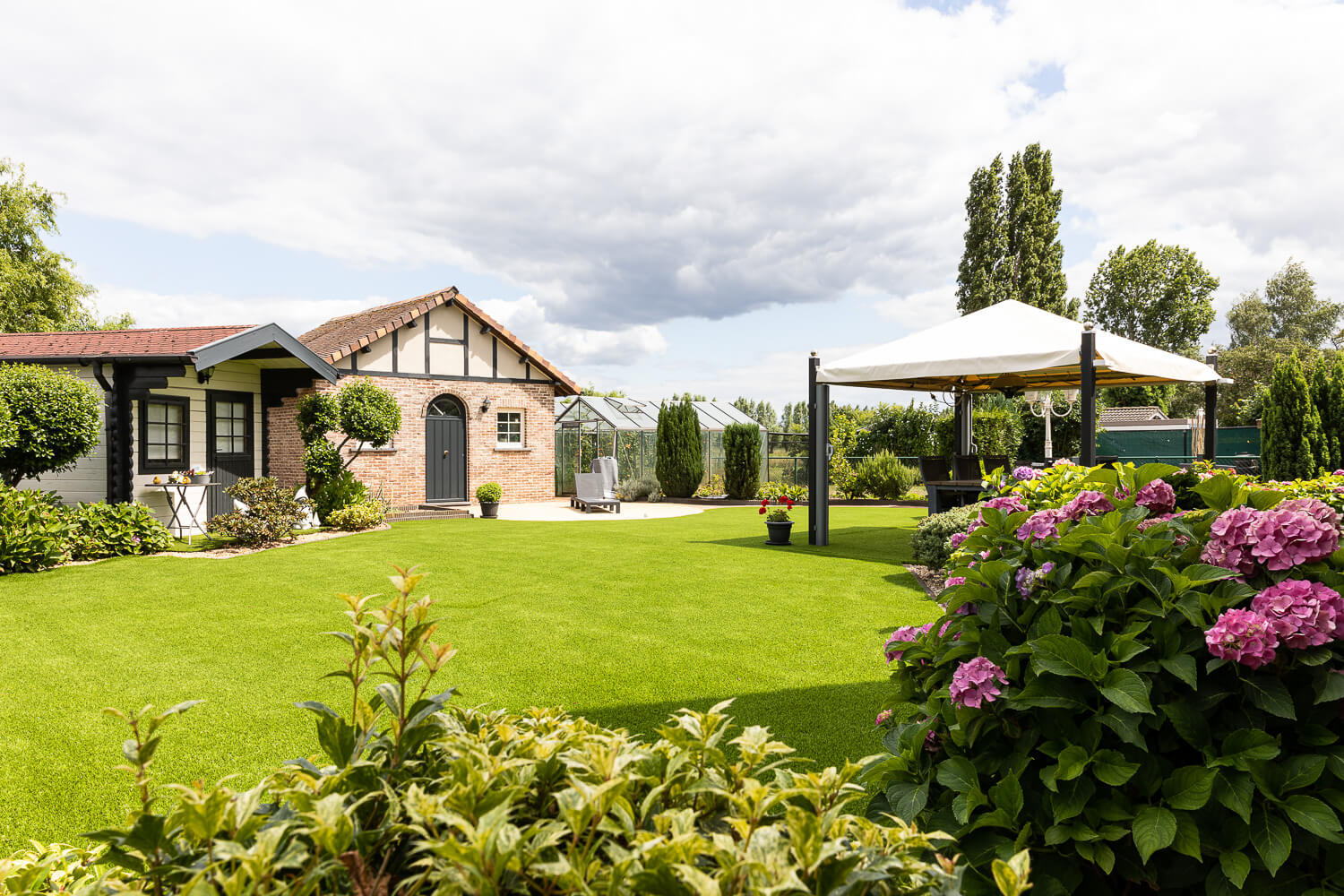 Artificial grass came a long way since its early years. The product originated in the 1970s and was originally intended only for sports pitches, giving it the name Astroturf. There were different types for all kinds of sports: football pitches, hockey pitches, tennis and hockey fields. But ordinary consumers also became interested in the low-maintenance ground cover and so the product ended up in private gardens. In the beginning, it was visible from miles away that it was not a natural lawn, but today you can hardly distinguish it! Meanwhile, there are different artificial lawns for all kinds of purposes, so we list them for you below.

Natural-looking artificial lawn for the garden
For most people, a natural-looking appearance is the most important thing in choosing an artificial grass carpet. There are therefore different types (at ResiGrass no less than 28) which, due to subtle differences in colour, height and supporting material, all mimic a real lawn, depending on the customer's taste and 'liking'. These grasses are all 3rd generation qualities, which means they do not require instilling. Indeed, infilling with silica sand is a practice carried out to give extra support to the blades. Thanks to continuous innovation in yarn production, ResiGrass' sprites are strong enough today to stay upright without support. The entire collection of artificial grasses is suitable for ornamental gardens or gardens with normal use.

Strong grass for intensive use
If you have small children who like to play football on the lawn or large dogs, for example, it is best to choose one of the artificial grasses intended for intensive use. These are, for example, the RGP405 Intense , the RGP457 or the RGP 524. These still mimic a natural look, but due to the extra amount of sprites per knot, form a denser carpet that you can easily kick a ball on.

Fire-retardant grass & shock-absorbent ground cover
Besides the private market, demand for artificial grass carpets often comes from public authorities and property developers. For example, many public buildings require a fire-retardant ground cover, to which the RGP530 responds. Schools, crèches and playgrounds, on the other hand, require a ground cover that meets safety regulations in terms of fall cushioning. These standards are easily met with the certified undermats. This allows toddlers and children to play and explore safely. It is also an ideal floor for a playground, as it is clean and hygienic. Do you have questions about the exact thickness of the undermats for certain playground equipment? Then contact our experts for no-obligation advice.

Coloured grass mats for outdoor use
In addition to green-coloured grass mats, there are also outdoor carpets in different colours. Pile height and thickness vary in this regard, but these ground coverings lend themselves perfectly to recreational purposes/ construction of playgrounds and playgrounds. They are typically shorter and stiffer than garden grass, making them more robust and better suited to intensive use. These species can also be used, for example, for construction of mini-golf courses.

Sports fields
Finally, artificial grass continues to be widely used for its original purpose: sports fields. Versions differ depending on the sport: for football, there are different types that have a higher pile height and require gritting, while padel grass or tennis grass is shorter and stiffer. For the construction of a sports field at a school, for example, this grass type is perfect as a multi-sport field.

Synthetic turf is therefore a very versatile product that is suitable for numerous purposes, so who knows what your next project will be?
Our rolls are always 4m wide and about 25-30m long, with the necessary quantity to be cut (there is no minimum order) and both private individuals and professionals can purchase their goods from us. Do you still have questions about the installation, how much the installation costs or which accessories you need? Then our advisers will be happy to help you in the showroom! In our show garden, you can discover the entire collection with no obligation and we will make sure you choose the right grass type for your lifestyle.
Can't make it to us? Then request your free samples from the products on our site!