A beastly lawn: happy dogs and cats with artificial grass!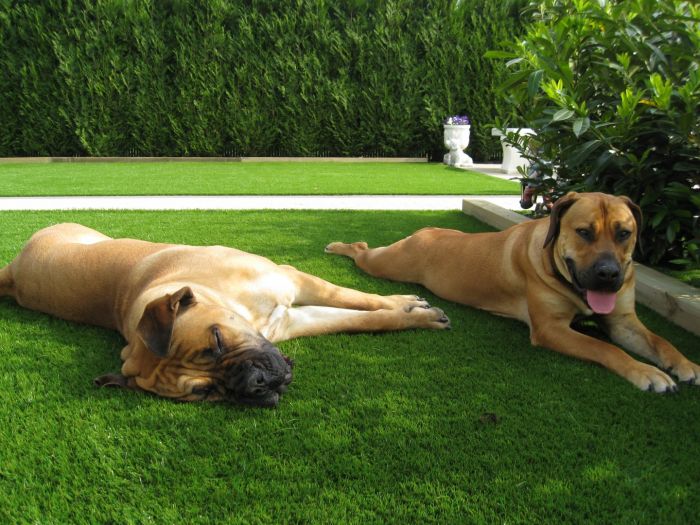 We are often asked whether artificial grass is suitable for dogs, cats and other pets. After all, it is not only important that your garden looks nice, but also that it is a nice and safe environment where your pet feels at home! And we are happy to say that this is the case. Dogs and cats love to play and roll on it and it forms a pleasant surface that is low maintenance.
Also the dry spots of their droppings are history with artificial grass!
Below are the main advantages of artificial grass and pets:
Easy maintenance
Gone are the days when your lawn was littered with reddish spots where your pet did his/her business. Artificial grass is resistant to, among other things, the components in excrement that cause discolouration (ammonia). Puddles just run through the artificial grass and larger needs can be easily removed. Just rinse with water for any odour and you are done!
Hours of fun
Dogs love to play and roll around on artificial grass. Be careful during installation that you attach the grass mats properly: loose seams can get stuck between their paws and form a risk. Professionals always make sure that no loose pieces remain. That way the lawn is a safe play area for your pet. The grass itself feels soft and nice to your pet's paws.
After his play session outside, it is of course also very nice for you that your dog does not have dirty paws in the house: win-win!
Bandit-proof
Some dogs like to dig: they will soon discover that artificial grass is normally impossible to dig through and will usually stop their digging attempts. In the case of rodents, however, we do not recommend placing them on artificial grass, as their digging and gnawing capacities are a little more advanced and can still cause damage.

Ideal artificial grass?
There are in any case a number of factors that influence your choice of the ideal artificial grass for your pet:
The length: best not much longer than 30mm
The resilience: a C-shape or W-shape gives the blade of grass greater resilience
The type of dog: for small and/or calm dogs that don't play a lot, we recommend the following types: RGP 440, RGP 457, ECO 1, RGP 536 and RGP 538. These look natural, feel soft and have already proven themselves in heavy use.
Do you have a larger and/or very active dog? Then it's best to choose a very firm grass type, like the RGP 406. This type feels harder.
Artificial grass is certainly animal-friendly, looks natural and ensures that your garden will always look nice and well cared for. It does not retain any matter, so you will not get any odour problems either. In addition, most grass types feel soft and your four-legged friends love to play on them. Both dogs and cats are attracted to the grass and love to roll around on it.
Do you have more questions about which artificial grass suits your situation? Feel free to drop by for professional advice without any obligation in our showroom and discover our wide range of ResiGrass artificial grasses in our large show garden!